Hey traders,
If you have checked out the stock CBOE over the last couple of months, you'll notice that the trend is NOT that stocks friend.
Why?
Because trading of structured volatility products is in the absolute toilet.
Even as the VIX has held above 25 since February (sans a day here or there).
Given the market volatility over the past year and crazy retail DIVING into stocks like its the only thing to do with their time, this has been shocking TV pundits.
This is because despite the market volatility and the high VIX…
VIX HEDGING IS NOT WORKING.
In fact I did a whole free explaining WHY this is happening and how I'm personally taking advantage of it.
Take a look at these two charts. The top chart is the SPX, the bottom chart is VXX.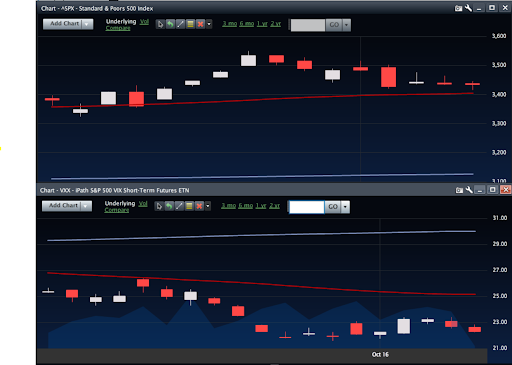 What you'll notice is that since the recent peak in the SPX on October 12th BOTH the index and the ETP (VXX) are DOWN.
When a hedge doesn't hedge, it makes professional traders unhappy.
That is what is going on with the entire VIX complex.
Believe it or not, VIX needs to get back to the teens before its going to start working again…
Which will happen…
Someday.
The VIX light is Yellow meaning VIX could go up OR down, but will swing wildly.
Your Only Option,
Mark Sebastian
P.S. – True professional traders are not only always looking for the next unique edge, but they also know when to change things up because a certain strategy is going to stall for a bit. This is the power of knowledge, experience, and quantitative edge.